Not yet.  And after the latest debacle with the June 18th firmware, maybe not ever.  My old, original xbox softmodded to run XBMC is still more polished and faster than this little guy, despite the glowing reviews I read which led me to purchase the Popcorn Hour NMT in the first place.
As everyone knows, there is a disconnect between the PC world and the television world – especially when it comes to getting digital video and audio content into the room where the couch and the big TV are.  Many products such as the AppleTV, Xbox 360 and my own shiny PS3 as well as various media extenders try and bridge that chasm promising to play all (or most) of your media library and bring it to your living room HDTV.  Unfortunately, the two big players that are capable of making effective products, Apple and Microsoft, are hobbled by legal roadblocks and business partnerships, both internal and external, that would sour if the box they made performed too well (read: properly) and truly freed your media.
I had high hopes when I read the impressive feature list and got on the waiting list for this little box. The Popcorn Hour A-100 NMT (Networked Media Tank) is quite a capable media player especially considering its diminutive size. The fact that it doesn't have integrated WiFi doesn't bother me since I have Cat-5e runs from my living room and my core home network.  When I took delivery of it I did a quick un-boxing to see what I got for my $200 and took the screws off to peek inside…
Not bad. I needed to supply a hard drive for many of the included features such as the BitTorrent, Samba media shares and uPnP and FTP services to work (for obvious reasons).  I am more interested in its file playback and streaming capabilities, but what the heck…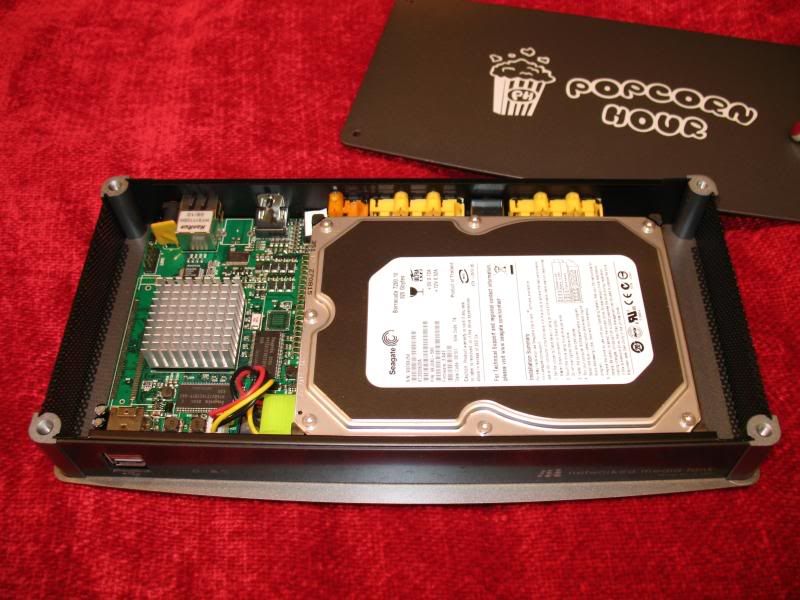 So, I tossed in an inexpensive 320GB PATA drive that was on sale at Fry's and fired it up.
Back in May I set this up for the first time: It was unable to detect my USB thumbdrive with the latest firmware I had downloaded when I pulled it out of the box, so I had to use the "Internet Update" option.  All together the firmware update and optional, but recommended, NMT software installation to the hard drive took about 30 minutes before I had a usable unit.
I hooked it up to my Mitsubishi WS-65411 (65-inch rear-projection CRT HDTV) using the component cables and setting the resolution at 1080i/60 since this big screen HDTV is a few years old and does not have HDMI or the capability to display 1080p.
After about 5 minutes tweaking a few personal settings and setting the local IP address I began to see what it could do.  However, I quickly ran into multiple quirks and outright deal breaking problems playing back media from my collection and my downloaded video netcasts:
DVD ISOs or raw VOB files in a folder would only play the audio, but not the video.  I was not successful in any way to view one of the DVD's ripped from my personal collection that would, in stark contrast, easily play through my XBMC.
Videos did not scale well for my CRT HDTV and resulted in much of the lower-third graphics being cut off from view.  Flagging at the top and bottom of the video are also present.
On my CRT HDTV those 16:9 videos that used all of the screen's real estate would create strange color-banding effects to the picture making it unwatchable.  The only way to work around this was to "zoom" to "original size" and watch the video as a postage stamp in the middle of the screen – also unwatchable.
On my CRT HDTV the menus in 1080i look nicely detailed, but it is extremely difficult to see which items were highlighted until you selected "down" enough times so that the dark selection bar could be discerned from the background.  It is much easier to see if the video mode is switched to 640 x 480 on this set.
Sometimes the unit would seem to hiccup and simply viewing JPGs from my digital photo album would result in errors requiring a reboot by pressing "disc eject" and "power" on the remote.
NOTE: Recently I moved the Popcorn Hour NMT to another room and hooked it up to a Samsung LN-T1953H using both component and HDMI and the flagging and color banding visual problems I noted above did not occur.  However, it seems the video output chip is not the "best of breed" and there is considerable vertical and horizontal overscanning of the active video signal that is visible on both HDTVs I tried, although it is less apparent on the Samsung.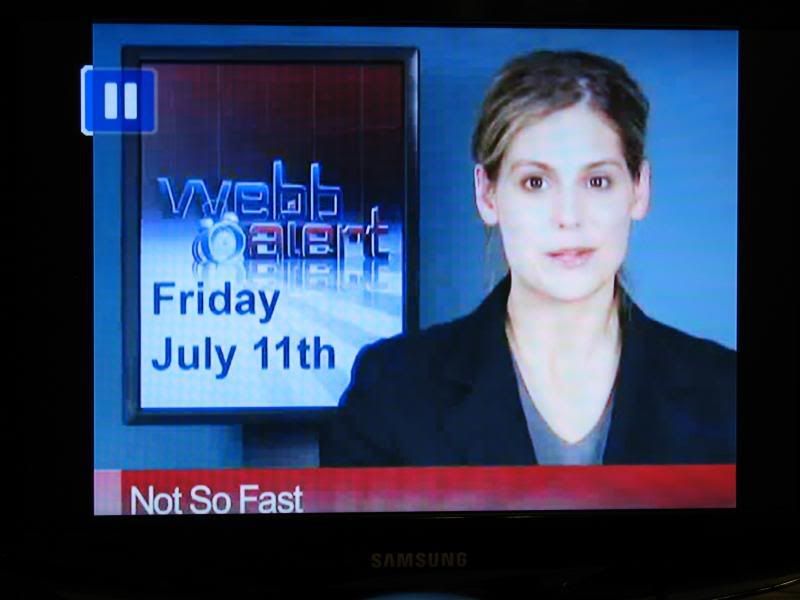 So, let's see what re-sizing the video using the "Zoom" function does…
Â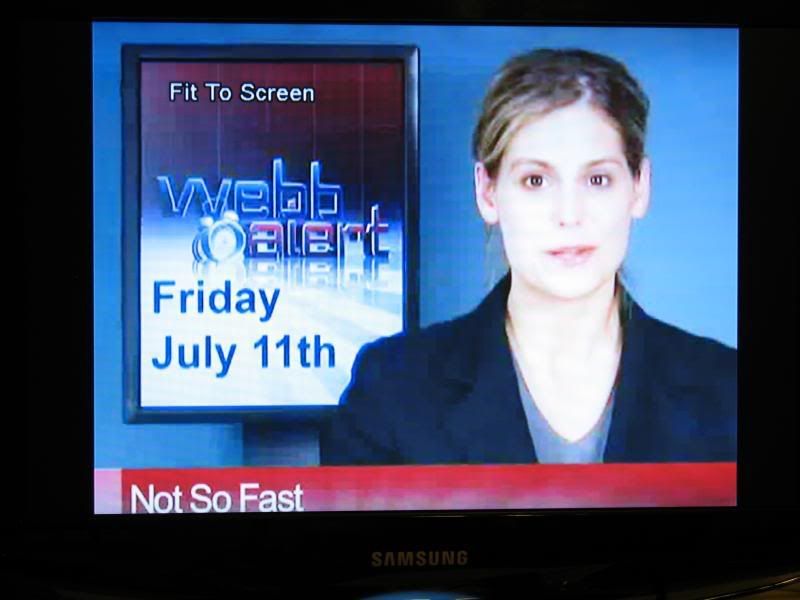 The A-100 did a number of things well:
Connecting to media stored on my DNS-323 NAS, it played all the video files I had in the way of popular video netcasts without a problem (Diggnation, Webb Alert, DL.TV, Cranky Geeks, Command N).
Â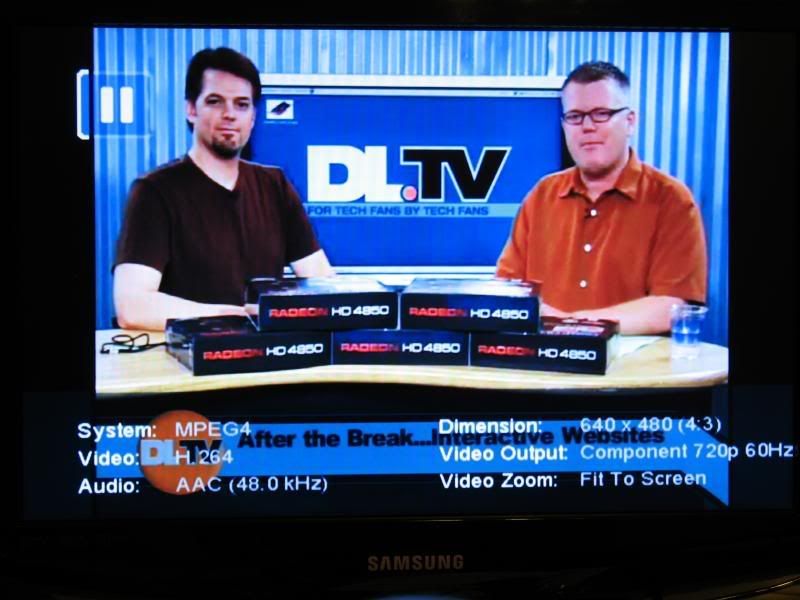 The NMT played back any of the songs I had ripped from my personal CD collection (although the visual effects in XBMC are waaaay more fun).
It has a very nice tie in with Media Service Portal to access popular video netcasts.
You can even search for and stream YouTube videos.
At least you could until the June 18th firmware update which killed it!
Â
The new update doesn't brick the NMT, but it does cripple many of the selling points of the unit.  Youtube playback is not working, nor is the BlipTV feed or the NBC Today Show channel.  I stopped there and didn't bother to waste my time trying others.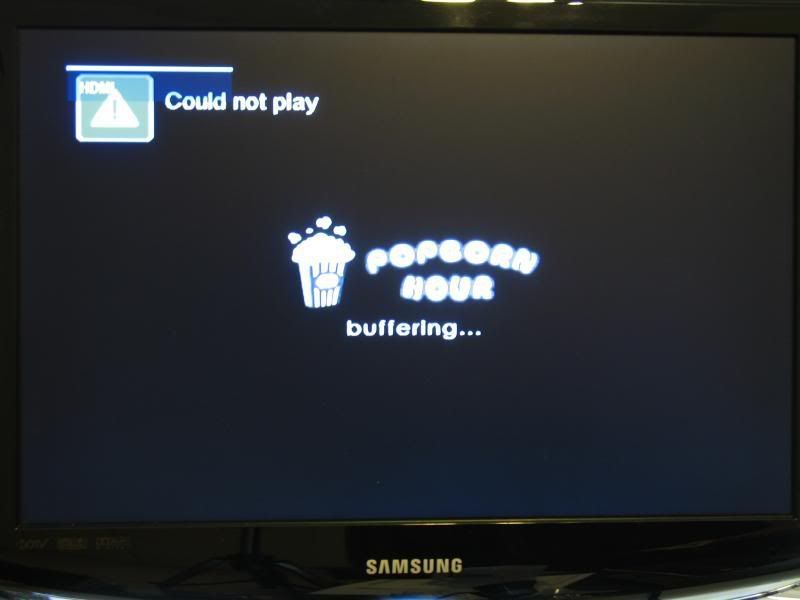 As of this blog post there is still no updated firmware, however a posting in their community forums says that one is just around the corner.
Several other problems exist that I encountered with the unit when streaming media from the USB thumb drive, my networked NAS or an XP computer with a shared folder through the NMT:
H.264 videowill play, however if you pause the video and press pause a few times to step through the video for a particular scene it will crash the NMT hard.
DVD ISOs do not play AT ALL!  Before the new firmware the audio was present, but no video.  Now it just dumps back to the menu screen after a few seconds of apparent buffering.
All the AVI files I tried to play just gave me audio, but no video.  Again, very disappointing.
I'll just stop here.
I really don't see any compelling reason to buy this Popcorn Hour box after having had it a while.  It is a cool concept, however in execution it is rather slipshod and has a certain "beta" quality to it.
I feel that anyone looking for the "gadget bridge" in the living room to view their media on the family HDTV will be far better off buying an old original XBOX for well under $100 from someone on Craigslist (for those of us in the US – eBay for everyone else), a copy of Splinter Cell or Mech Assault for the XBOX then installing the latest T3CH build for XBMC on it.  You won't be sorry you did.