Making My Netbook Sing. And Dance. And Play Movies.
I'm sure I mentioned before that I really like gadgets and a few months back I bought an eeePC 1000HA for under $400. This is one of the very first Netbooks to have the Atom processor and a 160GB hard drive instead of the paltry 4GB flash drives in the early models.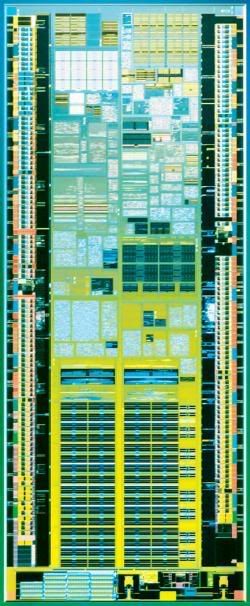 I really wasn't impressed with the device out of the box since it comes shipped with a stripped down version of Windows XP for the operating system. My initial experience with it was pretty lousy since the OS crashed hard when I tried to rearrange items on the desktop the first time I powered it up. A few more times of use were met with similar frustrations and overall sluggish response from the interface that even the addition of another 1GB of memory couldn't help.
So, what's a geek to do? Strip off Windows and install Linux of course!
At the time, my first installation was using the older Ubuntu eee distro (now called Easy Peasy) which was the first to use the "Netbook Remix" style of desktop. The one consistent problem I had was that it would forget my wireless password and would not reconnect without my re-entering my password every time. This was not the end of the world as we know it, but it was pretty damn annoying.
Presently there is a new distro called eeebuntu, based on the 8.10 version of Ubuntu and sporting an improved and snappier "Netbook Remix" (NBR) desktop. This new desktop layout for the netbook makes sense and makes finding everything you really need very easy by organizing the shortcuts into categories and by using large icons.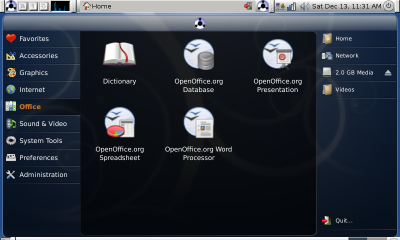 One of the best features is the improved menu bar at the top and the addition of a hiding task and workspace bar at the bottom.
Getting your eee PC this awesome in about an hour or two is really easy to do and can be summed up in just a few simple steps:
Note that doing this my way will wipe anything you may have saved on your current eee PC configuration. Backup anything you may want to keep before continuing!
Download a copy of the eeebuntu ISO image here (I recommend the NBR version for your eee PC).
Download the liveUSB Creator tool and use it to create the bootable ISO image to a spare 1GB, or larger, USB flash drive you have lying around (ignore the Fedora logos and use the "browse" button to locate your eeebuntu ISO image).
Set the BIOS on your netbook to boot from the USB flash drive and reboot so that it loads the eeebuntu image.
During the setup process I recommend selecting the option to use the entire hard drive for the installation, but this isn't mandatory. Otherwise, simply answer the simple set-up questions and select the "automatic login" when entering your primary user name and root password – just to make the boot process that much faster.
Once you are in to the desktop and have set up your networking (wireless or wired) run the update manager in the System -> Administration menu and get the PC up to date.
I'd also recommend going to a website with flash (like YouTube) so that the plugin gets installed.
Then follow these steps that Laptop Magazine laid out in order to install WINE so that you can install and run most any Windows application.
After that it just becomes a matter of rounding it out to suit your needs. Use the Synaptic Package Manager in the System -> Administration menu to locate software you want or need installed. I've learned that it is extremely easy to type a name into the "Quick Search" field to filter out the unnecessary files and have all the related packages I'm looking for appear for easy selection.
Since VLC Media Player is bundled with the eeebuntu image you are already capable of watching podcasts or movies. Now all anyone needs is to install a podcast aggregator (like gpodder) and they're ready to ride the train in to work or watch a movie on a plane, since there is no way anyone can open a normal sized laptop in coach these days.
Can't go wrong with a little Tiki Bar…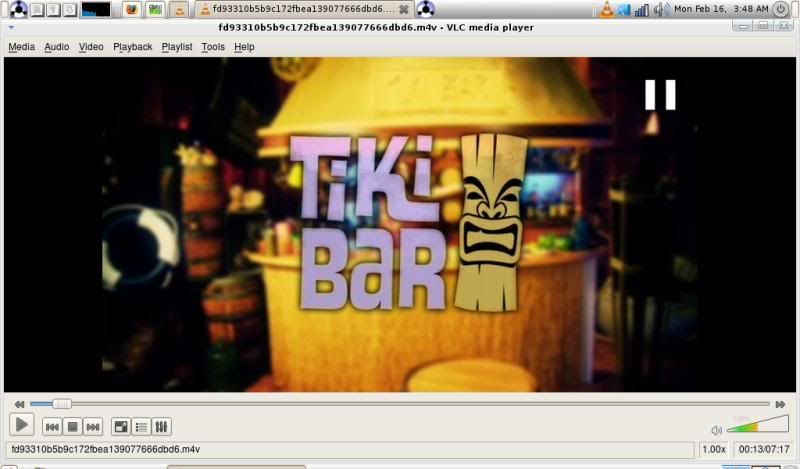 Now, enjoy your much improved netbook!
« The DTV Delay Debacle. Just cut the cord already…