Not too long ago I had some time to review the capabilities of an Insignia CECB (coupon eligible converter box) and found that it was quite capable for its intended purpose. However, it lacked a few features and I discovered a matrix that showed one converter box with the most features of any CECB and it was for sale at a local Best Buy.
The Apex DT250 sold for $60 like the other CECBs and is a similar size and form factor. If you have $40 coupon this box would only cost $20 plus tax. The difference it has from many of the other converter boxes is that it provides for analog pass-through and the ability to control a smart antenna. Since I do not have a smart antenna on hand (right now no one does) I focused on its ease of use and performance in picking up OTA digital signals.
Just like before I am using a chimney mounted, Winegard Square Shooter, non-amplified antenna at my house in Redwood City, California. Using AntennaWeb.org I wind up with the following list of stations and their respective directions from my home that I should be able to pick up (in a perfect world).
However, since my antenna is oriented to the Northwest, toward the stations on Mt. San Bruno and Sutro Tower, I do not expect to pick up those to the East and Southeast of me. Note that most of them on the list (G, H, I, J) are on Sutro or San Bruno.
The welcome screen on this box hits the highlights needed for the new user.
After the channel auto-scan was complete I was able to access the main menu and see what channels it was able to pull in. I was able to watch 15 different DTV channels (2.1-2, 4.1-3, 5.1, 7.1-3, 9.1-3, 22.1-3, 26.1-2, 32.1-4, 36.1-2, 38.1, 43.1-3, 44.1, 48.1-2, 65.1-4, 66.1-2) which is 3 more than the Insignia box allowed me to receive. It also (barely) pulled in a 16th channel – the NBC affiliate KNTV which broadcasts their DTV signal from San Bruno on VHF channel 12 at 103.1kW. Since KNTV-DT is significantly lower power than the other UHF DTV stations and my antenna, like almost all others sold today, is optimized for the UHF channel band I am not surprised that it is a difficult station to receive.
The Apex unit was very responsive and quick to tune in stations. It also had a useful and rapidly updated signal strength meter that would allow someone to orient an antenna, especially an indoor antenna, and quickly see the results.
The electronic program guide really isn't that great or well formatted, but it gets the job done (in an ugly way):
The box also has the ability to add or delete specific channels and will decode closed captioning.
One of its uncommon features is the analog pass through. This is simply a second RF jack on the back to allow you to connect the set top box to the TV via coax instead of the composite video and stereo audio cables. In fact, the only way to get the "analog pass-through" is to use the RF cable and then turn off the set-top box. This will allow the antenna signals to "pass-through" to the analog TV and then you have to use the tuner in the TV to watch those few remaining analog stations (if any are still on the air in your area after the transition). I was hoping that the tuner would be capable of double-duty (DTV and NTSC) so that you could just use the one set-top box remote for all your TV viewing needs. Oh well.
The connections for the set-top box are so simple they simply printed them on the inside of one of the box flaps instead of printing a pamphlet or something silly like that. After all, you might lose the pamphlet.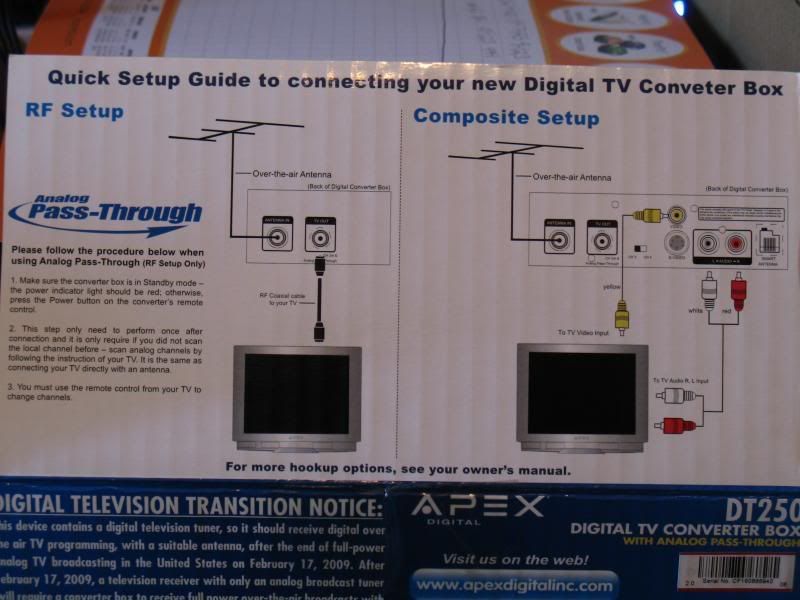 Overall this unit worked well for me and better than the Insignia box I used earlier. The remote is basic but laid out well enough and it also has a few good features that the Insignia unit lacks while costing the same. The choice is clear; right now this is the box to beat. With this CECB, all of those programs broadcast over the air for free by your local broadcasters can still be viewed on an old television. It's too bad that all the good shows are on cable networks now…